Getting Started: You may be surprised to find out you have different options to build your in-ground pool.
1. Vinyl Liner in-ground Pool
2. Fiberglass in-ground Pool
3. Gunite in-ground Pool
Gunite pools are common in the Northern Virginia area. The picture above shows a 20' x 48' pool, 10'x 12' spa with a 6" spill over. We built 2 sheer descent waterfalls in the retaining wall on both sides of the spa. We installed a 3000 sqft travertine pool deck that matches the stone veneer on all the retaining walls. We designed and installed on both sides of the spa, fire elements or Fire Bowls with gas inserts. Building pools with gunite can customize the pool shape and size to fit any needs. Gunite, being a concrete product, takes longer to build and cost more to build. Gunite pools have steel reinforcement. This step in the pool build is not necessary in Fiberglass or Liner pools. Fiberglass pools are pre-built and has limits on sizes and shapes. They are great for small backyards as are Liner pools.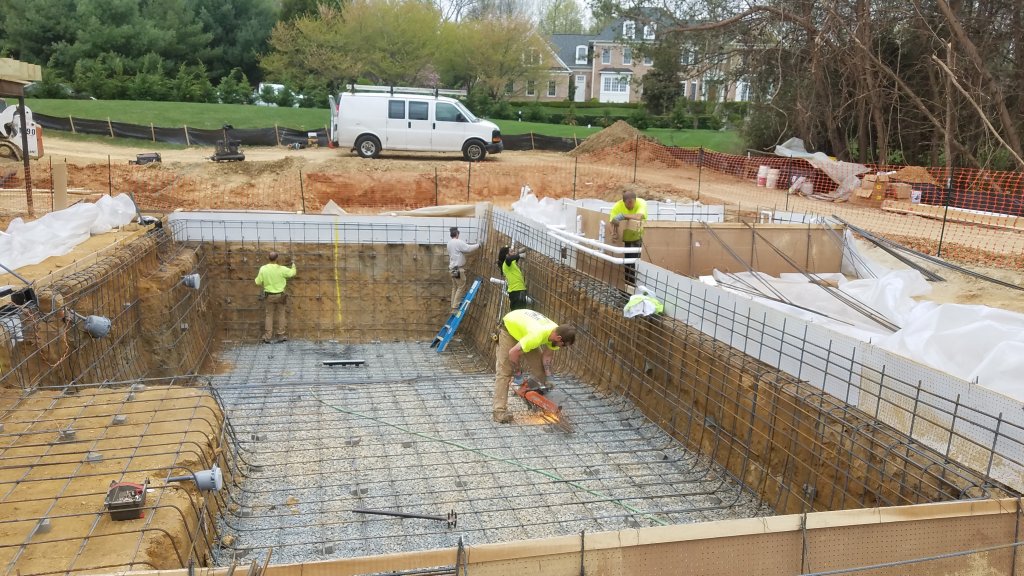 When talking to your Landscape Architect or Landscape Designer, ask about these different options for your property. What pools are made out of, could give you more options on the rest of the pool project options. Also, you may be able to qualify for financing the project at a local lender. Another great question for your Landscape Architect or Landscape Designer.
Ian Williams – Owner