Patios are another great way to enhance the look and usability of a back yard. Once again you have many different types of material to choose from. Flagstone, brick, travertine, concrete pavers, stamped concrete, or just a broomed finished concrete. All great options.
Travertine: Is quarried in Turkey. Very popular right now. Travertine comes in many different colors. The French Pattern is one of our favorite patterns to use. The designer can incorporate a flagstone border which will enhances the travertine. This product is great for areas that has no shade. Travertine does not get so hot you can't walk on it as some product do. Travertine is going to be on the higher end of the price spectrum.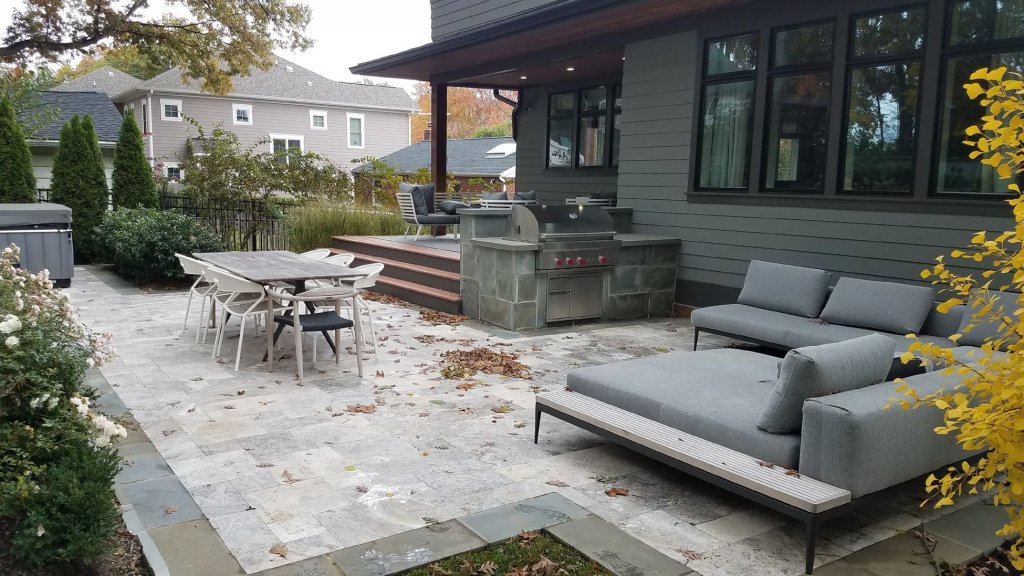 Flagstone: Flagstone comes in many shapes, sizes and thicknesses. We never recommend using a thin flagstone for flatwork, like patios or walkways. 1 ½" is the thickness we use on all our projects. You wouldn't have as many issues in the years to come using a thicker stone. Flagstone has many different colors as well. Premium is basically a pure lite gray. Full color has browns, purple, black, in it.
Flagstone is one of the higher price bracket items to install.
Installation: We are a big fan of installing products like brick, travertine, flagstone, on a 4" concrete slab with a 4" gravel base. If you and designer decide to not use cement joints then you can use a polymeric sand product. This will do what the cement does and keep water from getting under the stones and freezing. Water and ice are the biggest problems for patios and walkways.
Interlocking Concrete Pavers: This product has been around for a while now. We install pavers on a gravel base with 1" of sand. This product is a more affordable option to install. Techo-Block, Hanover products are what we usually spec for our projects. Great product for a driveway alternative.
Ian Williams – Owner